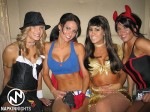 Well like it or not, the holiday party season is nearly upon us and you need to be ready for it. These parties are a great opportunity to hone a vital piece of the puzzle you need to get your show on the air.
What you have at these parties are perfect test subjects for practicing your pitch and learning more about what works and what doesn't.
This is a good time to practice getting people to ask about your show. Don't just barge in and hit people over the head with it. Ask them questions about themselves to get them to ask you about yourself and thus…your show. There is an art to this so don't be too impatient as you learn how to do it. It's a real study in human behavior so it'll take practice. It will be a valuable tool in your sales arsenal down the road.
And if you're going to be talking about your show you should have some semblance of a Logline. If it is still in a very rough form maybe it's not time to talk about it yet. You don't want to bore people by going on and on about all the details, which brings me to my next point…
If you are talking about your show be sure you don't get so excited that you forget to watch for people's responses. What are the unique points of your show that make them sit up and pay attention? At what points do you lose their interest? Again, studying human behavior.
A big component of getting your show on the air is being able to sell it (sell is a verb), and these parties are great places to work on your art of selling. Everybody is different so you need to find out what works for you and what doesn't.
Work your way through these upcoming holiday parties. Listen to people. Watch their responses, and while you're doing this, remember to have fun. After all, it's a party!